What is it and how does it work?
AllAdvantage pays you $.50 per hour, while you are surfing the internet. On the TV and radio, you are exposed to hundreds of advertisements, and benefit little from them. But now, you can get paid by allowing small advertisements on your desktop while you are on the internet. A small advertisement window, called the ViewBar, rotates advertisements on your desktop. The ViewBar can also be minimized at anytime. There is a 25-hour per month limit, which means $12.50 per month. This is going to eventualy be upgraded to 40 hours.
How can I make more money?
You can make more that the base $12.50 by referring other people. Direct referrals, people directly referred by you, pay an extra $.10 per hour when they are online. Indirect referrals, people that were referred to AllAdvantage by a direct referral, pay you an extra $.05 per hour. This is where the real money is made.
How do I sign up?
Just go to http://www.alladvantage.com/go.asp?refid=edl898 and sign up. Signing up will only take a minute, and there is no survey to fill out. You will be e-mailed your personal ID number, referral URL, and additional information, and can be making money within 15 minutes.

---


Make cash on the net. The potential is unlimited. Here is how it works. Spedia distributes a percentage of the revenues it generates from advertisers to its members. We display ad banners on our proprietary bar and pop-up window. You use our services and collect your cash every month. There is no limit on the amount of money you can make.
You make money every time ...
You surf the net- You will be rewarded for any minute you have our bar active. Best of all, you can use this service even if your web browser is closed. You don't have to browse the Internet to make money. All you need to do is to have a network connection, have your Spedia bar active, and use your computer. In other words, you can earn cash while working with your word processor or spreadsheet.

Someone visits your site- Spedia.net will display a pop-up window every time your site gets visited through your spedia.net address. Our ad server will manage the ad banners placed in the pop-up window. Spedia.net has strict policy related to ad banners and other advertising materials, so you don't have to worry about indecent postings.

Someone follows a link from your site- If you have registered with us peter.spedia.net, you can place the following URL http://peter.spedia.net/? in front of the established links on your web site. Every time a visitor follows a link on your web site we will display a pop-up window as we redirect your visitor to the targeted URL destination. If you have a link within your web site like http://www.yahoo.com all you need to do is to convert it to http://peter.spedia.net/?www.yahoo.com.
How do I sign up?
Just go to http://www.spedia.net/cgi-bin/tz.cgi?run=show_svc&fl=8&vid=244410 and sign up.
---

ePipo is a fairly new company that has a lot of character. They plan to pay you $.60 / hour. You can make referrals, and are paid $.10 / hour that your referrals are online. There is a 50 hour per month limit on your usage, which is one of the highest of all the services here. ePipo's AD window program is written in Java, so it's virtually platform-independent. That is, it will run in Windows, Macintosh, Un*x, and just about any other major platform that supports Java. Spamming is strictly forbidden as means of getting referral members.
This is what there viewbar looks like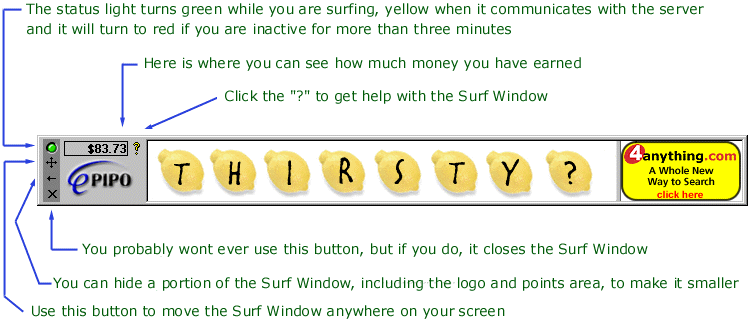 How do I sign up?
Just go to http://www.epipo.com/signup_form.asp?edl898 and sign up.
---